[ad_1]
Kumasi Hive, a Tech Innovation hub in the Ashanti Region is exploring ways Micro, Small and Medium Enterprises (MSMEs) can employ web technologies to digitally transform the local economy and create jobs.
The initiative was advanced at an Entrepreneurship Consultative Stakeholders meeting at Kentinkrono, suburb of Kumasi, which was an outcome of its Entrepreneurial Ecosystem Mapping Project.
The Mapping Project was meant to initiate conversations with key organizations to understand their challenges and collate their contributions for the Entrepreneurship Ecosystem in Kumasi.
A curated list of organizations was shared with the Mapping Team with In-person meetings carried out earlier this year under the Pathways to Sustainable Employment (PaSE) project.
The PaSE project which is under, the Young Africa Works Initiative (YAW), is funded by the MasterCard Foundation is expected to create 30 million jobs in Africa by 2030.
Managing Director of Kumasi Hive, Maurice Nii Adjei Cashinco, during his presentation explained that, the Mapping Out team identified most organizations and institutions within the Ashanti Region support MSMEs, by ensuring they scale-up to meet their demands.
Web Technology and Economic Transformation
The consultative meeting was under the theme, "the role of web technology for digital transformation of the local economy for job creation and economic development".
The objective was to engage stakeholders in conversations on maximizing web technology for economic value.
Participants were representatives of various institutions within the Kumasi Entrepreneurship Ecosystem who were categorized under six pillars; human Capital, Media, Finance, Market, Support and infrastructure, then Government and policy.
Under each pillar, participating organizations identified potentials, key challenges and problems facing their industries, key existing market opportunities and needs.
Stakeholders also identified opportunities and skills required to satisfy the current market needs through the use of web technology in their organizations operations.
One of the speakers, Samuel Sakyi Duodu, is the Assistant Commissioner of the Ghana Revenue Authority at the Asokwa MTO Office. He explained the Web Technology is potential for economic development and job creation.
"Meetings like this is a great platform for the various stakeholders to make contributions that can translate to progressive change in government bodies and systems."
He acknowledged Kumasi Hive's role in providing digital and business skills to young people and is looking to collaborate in the future.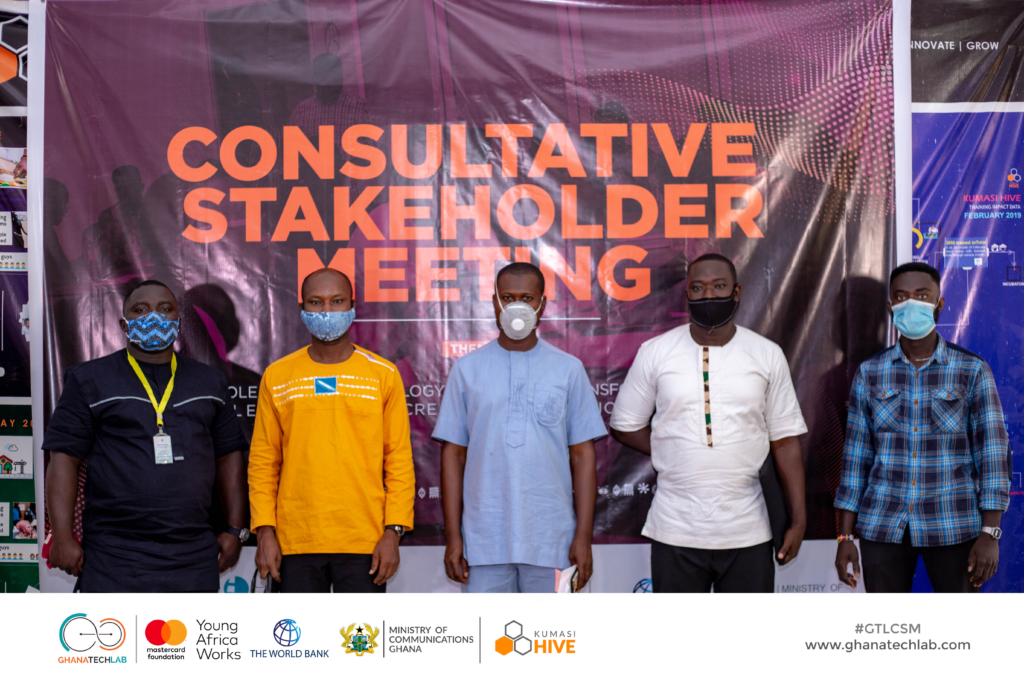 Policy suggestions to promote a Digital Economy
Stakeholders were grouped into pillars in focus group discussions, tasked to come up with key policy solutions to help promote web technology for a digital economy considering the challenges they faced in their industries.
Led by Research Lead at Kumasi Hive, Freda Gbande, below are some of the policies from the session;
It included the need for Hubs and other incubators to have partnerships with the banks to recommend entrepreneurs and trainers for opportunities, promote digital marketing training for SMEs and organizations and promote a flexible work environment for working remotely.
Create more platforms to provide local communities with IT SKILLS, strengthen confidentiality on the parts of banking institutions, customers and contractors, and the independence of institutions that are web technology advocates.
Others include the integration of Digital Citizenship and literacy program into our educational curriculum like teaching children in basic and high schools Web Technology.
The group also suggested that telecommunications companies must create affordable data packages for business and educational data users and enforce policies on data and service charges.
Leverage on social media and other platforms to create awareness on TVET institutions and their relevance to local and national development, as well as include digital skills training in capacity building programs and initiatives.
Information should be decentralize to the local level, periodic technical training should be held to train staff in organizations, enforce regulations of media training institutions and policies on content security.
[ad_2]
Republik City News is a subsidiary of SuccessValley, an online network community for students and aspiring entrepreneurs. You can reach SuccessValley through this link: https://www.successvalley.tech/