[ad_1]
General News of Wednesday, 1 January 2020
Source: Ghananewsagency.org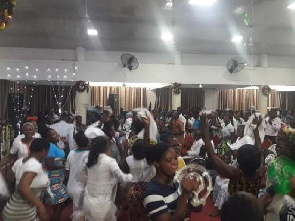 File photo
Reverend David Ampadu Berkoh, the Head Pastor of Berean Assembly of the Assemblies of God, Ghana has asked Christians to stop chasing miracles and rather get committed to God.
He said, "Don't chase miracles because God will do miracles. Signs and wonders will follow you if you remain committed to God."

He was speaking at the 31st watch night service at Ogbojo, a suburb of Madina to usher in the New Year.
He urged Christians to make time for God by studying the word of God and participating in Church activities.
Rev Berkoh noted that some Christians only attended Church meetings only on 31st night and after their confessions go back to sleep until the end of the year.
Others also prefer to spend more time on mobile phones, hairdos among other activities.
He said, "Some Christians do not make time for God so how do you expect God to reveal hidden things about you."

The service witnessed a huge number of people who were clad in white attire and scarfs.
Some members took to dancing, shouting, and praising the Lord as the praises team churned out various type of gospel tunes.
Rev. Berkoh said it was important for Christians to get committed to God's work, adding that if one is committed, God is ready to surprise such persons with miracles.
The Head Pastor led the congregation to pray for the country's impending general elections to ensure that peace would prevail.
[ad_2]
Source link
Republik City News is a subsidiary of SuccessValley, an online network community for students and aspiring entrepreneurs. You can reach SuccessValley through this link: https://www.successvalley.tech/