[ad_1]

General News of Tuesday, 7 January 2020
Source: abcnewsgh.com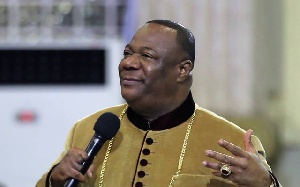 play videoFounder of the Action Chapel International, Archbishop Nicholas Duncan-Williams
Founder of the Action Chapel International, Archbishop Nicholas Duncan-Williams, has warned media personnel who misrepresent contents of his sermons to make news to be wary of the consequences.
Although he didn't call out names, Archbishop Duncan Williams stated that many media persons and news outlets twist his sermons to make headlines to sell their content and products, like newspapers.
For their actions, he intimated that together with their children and bloodline, they will not go scot-free.
Speaking during a service on January 5, the revered Archbishop said although he has forgiven such persons, the biblical principle of "What you sow is what you reap" will work against them.
"I have accepted persecution and persecution sometimes comes with misrepresentation. People misrepresent me, even my preaching. When I preach they will find something and take something out of what I said. To blow it and make a headline to sell.
"You used me to make wealth. I have forgiven you but the principle is clear, you'll reap what you sow so keep on using my name on social media to gain points, make money, confuse people, misrepresent me, lie about me, use me anyway you want to, but let me announce to you, you will not go scot-free, there are consequences which will follow your bloodline. It's just a matter of time and you will know that scripture cannot be broken." he said.
According to him, it has become a habit of Journalists in the country to use his name to make false news because he is a household name and he sells.
"One time I asked a guy who was very good in the media and I asked him what have I done to you people in this country and he said they don't have anything against me but I am a household name and I sell so I said so you're selling your papers by dishonouring and discrediting me to the public, putting all kinds of headlines about me," he told his congregation.
Adding that: "I'm used to sell Newspapers and people think they will go scot-free, you will not go scot-free, it's just a matter of time. You and your children, if you have children, your children will suffer the consequences and in your old age you will be asking what have I done, what have you done? You used somebody's son's name to make money."
[ad_2]
Republik City News is a subsidiary of SuccessValley, an online network community for students and aspiring entrepreneurs. You can reach SuccessValley through this link: https://www.successvalley.tech/